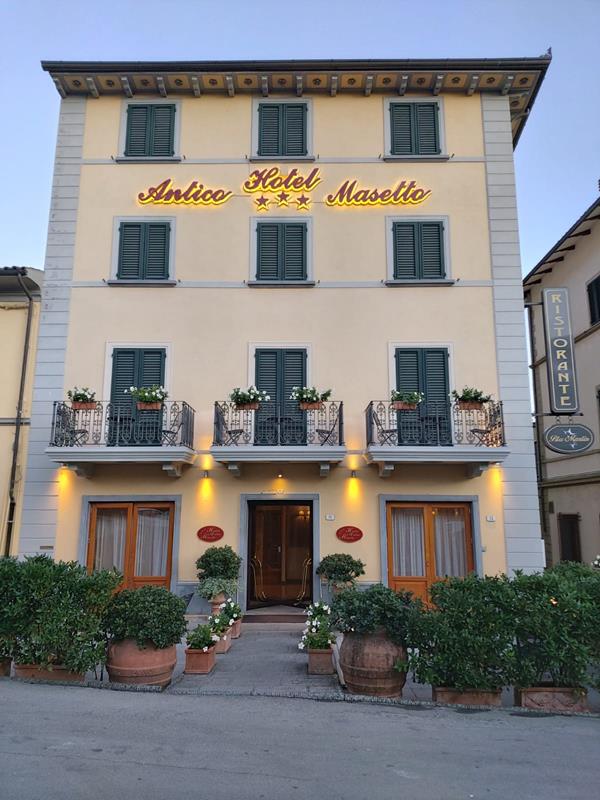 Organization & Services
Following an overview about our building and all the services an facilities available.
The Antico Masetto Hotel is an elegant place with quality things and is structured in 6 floors that can be easily reached even by those with different mobility difficulties thanks to a large and comfortable lift.
We have 21 rooms, of different types, designed to give maximum comfort and convenience and the classic contemporary furnishings meet the standard of quality we are proud of.
Abbiamo un'ampia terrazza con una pergola bioclimatica.
Inside the hotel: details and information
All the spaces are bright, comfortable and welcoming due to the parquet, fabrics and accessories chosen. Precious cherry wood is the predominant material and all its shades give an atmosphere of complete relaxation and comfort. Particular attention is also paid to textiles for both furniture and personal use, from deluxe curtains to "luxury beds" mattresses. The bathrooms have marble tiles (also present in the bathrooms for general use) and in the room they are equipped with a hairdryer, a shower, a heated towel rail for the pleasure of warm towels and a toilet kit.
Rooms: services available
Each room is equipped with air conditioning with the set adjusting according to your needs, there is a minibar, an electronic safe box for storing values ​​and more that require greater protection. There is also a full length mirror.
There are also 2 telephone lines and hands-free equipment, electrical sockets, satellite TV and teletext, Wireless WiFi and Internet connection. For details of the various types go to section "rooms".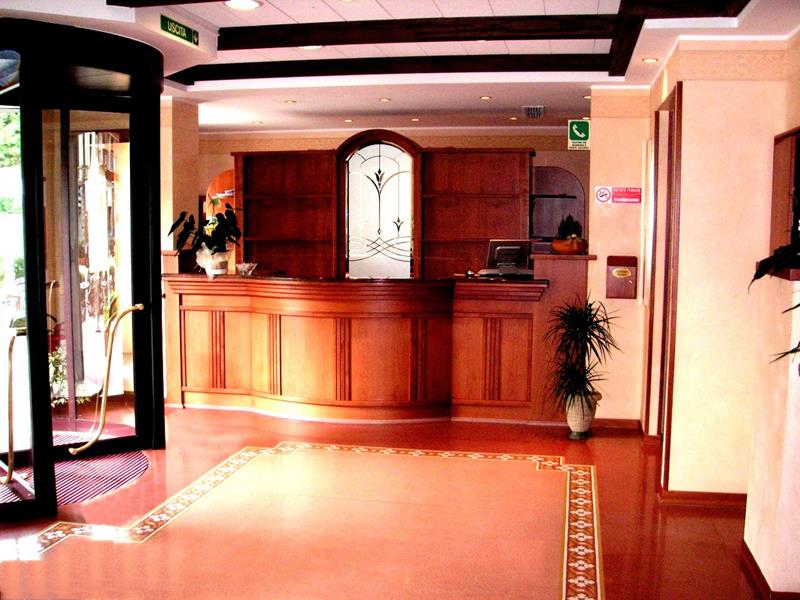 Common areas
Last but not least, the reception area and the lounge bar they have dark marble on the counters and cherry wood. In the lounge bar there is also an internet corner for those who do not have their own personal computer: a workstation to connect to the internet.
Completano l'arredo dell'hotel i pavimenti in ceramica ed i soffitti in "arabesque".
Strategic is the presence of multilingual staff and concierge in order to provide the best possible assistance. Outside normal hours, assistance is on call. Questa scelta fornisce alla struttura un servizio di ulteriore sicurezza, in hotel vi è sempre qualcuno in caso di necessità.
Superior quality
These services, usually not all included in a italian 3-star hotel, give a superior added value to our hotel. We pay attention to the needs of our guests, not to the stars, we believe that excellent service is the key to success and is our best business card that our customers sponsor to their friends and contacts.
Nature and environment protection
We are in a beautiful place and we have always paid great attention to protection of nature and the environment around us. We have oriented and we make our choices against useless waste: technologies with low environmental impact, rational use of available resources and recovery and reuse in all its forms. In the use of any kind of products, we prefer brands and manufacturers that are attentive to quality but with a preference for sustainable, local development and without damaging resources and the environment. We also ask our guests to follow these principles, confident that they are sensitive to these safeguards too.
Summary of general services
-Full assistance, outside the normal reception hours is on request
-Concierge and multilingual staff speaking at the Front Office
-Longue bar
-Large breakfast room
-Terrace with bioclimatic pergola
–Restaurant with independent management
-Guarded internal garage
-Parcheggio privato riservato con 3 posti auto vicino all'ingresso hotel
-Very close to the hotel are available: free parcking, supermarkets, restaurants, indoor and outdoor swimming pools, shops, banks, ...
–Meeting room up to 40 people
-Fast wireless WiFi Internet available throughout the hotel
-Internet Café located at the Longue Bar for those who do not have their own personal computer